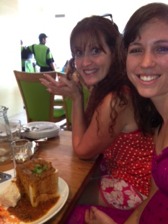 In October we had the privilege of hosting Justin Abraham and his team from Scotland and Wales for our Engaging Heavens Conference in Bergville.
We had visitors from all over the country join us - George, Pretoria, Ermelo, Vryheid, Durban and even Russia!
We had a glorious time in His presence worshiping for hours while Justin ministered Jesus' heart. People had amazing encounters the Lover of their souls. Lives were forever changed!
Stephen Mckie from Wales ministered on engaging the courts of God and getting justice. Jane Schroeder, who is a gifted seer taught on the supernatural. Hearts were challenged, first-love fires rekindled and lives greatly impacted! Praise God!
We also hit the streets with the love and healing power of Jesus. We saw so many incredible miracles, prophesied over others and ministered unconditional love! So many people gave their hearts to Jesus after experiencing His manifest presence! It was beautiful to see!
We're looking forward to hosting them again in the near future. These guys are sincere, sold out to Jesus, and manifest His love - a real gift to the body of Christ!